Restoration Campaign for the POW/MIA Mural in Venice, CA
YOU ARE NOT FORGOTTEN – A Long Ago Slogan from a Distant War
The Venice Chamber of Commerce, working with Veterans Foundation Inc, a 30+ year-old nonprofit, is accepting donations to be used to help fund efforts to restore and improve the POW MIA Mural in conjunction with Los Angeles City Council District 11, Metro and SPARC.
For more information contact:
Donna Lasman – Executive Director
Venice Chamber of Commerce
info@venicechamber.net
Download appeal letter here
HERE'S WHY
In 1994, Venice, California, located on Pacific Avenue, just south of Rose, Peter Stewart's dream to create a mural containing the names of every POW/MIA from the Southeast Asia conflict, was was brought to fruition. Until 2016 the mural served as a reminder to the community of those who sacrificed for our country, and as a memorial to a smaller group that never returned home.
BEFORE

During the week preceding Memorial Day 2016, the community, and the nation found itself in shock when the mural was vandalized by taggers.
AFTER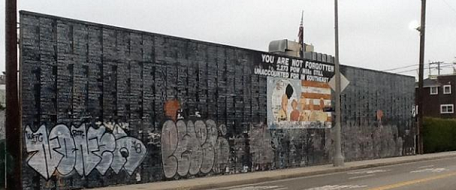 The City of Los Angeles Council District 11 and Metro are committed to supporting a full restoration. In partnership with the Venice Chamber of Commerce and the original participants, we are seeking your support. Time and taggers have not been kind to the mural and it must be completely restored. In addition, thanks to modern advancements, there will be graffiti protection and a digital overlay so that the mural, if it becomes necessary, can be moved and then viewed for generations to come.
We ask for your contributions, to honor both Peter Stewart's passion and commitment to his fellow Vietnam vets who never returned. And to honor all of those across all the years, who have heard the call and answered to defend our freedom.
Or mail to: Venice Chamber of Commerce – PO Box 202, Venice, CA 90294 (TAX ID#95-6419214, 501(c)6)
YOU ARE NOT FORGOTTEN
View Los Angeles Times Article